PR budgets are being reduced. Data gathered in June 2023 from the world's 100 most powerful communicators found that there has been a drop in public relations investment in the past 12 months of more than $1bn, from $4.8bn to $3.7bn.
This insight is taken from 'The Influence 100' which is PRovoke Media's annual compilation of the most influential in-house communicators worldwide.
Although this research was with the world's largest brand PR teams, it reflects the same pain being felt throughout the industry. We are hearing of hiring freezes and redundancies across the board. The industry also had to say a sad goodbye to London/New York creative agency TalkerTailorTroubleMaker last month because of the current financial squeeze.
It's time to take action and make savings where possible. Reviewing work-flow and how PR fee time is spent is the quickest way to spot inefficiencies and make PR budget savings.
With the explosion of ChatGPT use, there are now hundreds of posts on how AI can help speed up tasks. From influencer discovery to content research and writing, it's true, time can be saved in many areas of the PR workflow. However, ChatGPT is emerging and each task has to be tested and edited by a human.
There is however one simple change to the PR workflow that has been tried and tested by tens of thousands of PR teams around the world that has made a significant saving on practitioner time and fee being saved;
Automating PR reporting by using a tool like CoverageBook.
"We launched Workflow week – a full week where the team put a range of technology tools to the test so we could uncover which were the most helpful and would save us time. Of all the tools we tested, CoverageBook significantly changed the way we work as it automated a manual process of client reporting. We cut one client report time from hours to minutes"

Peter McIntyre, Senior Account Director, Digital Brand, Edelman
Time is money
One agency team that switched from manually creating reports to using CoverageBook across ten of their biggest clients. They saved a huge 5 hours on reporting time on each of their global clients. Every month. They calculated that this freed up over a week's worth of time every month and a $2k of fee banked and saved.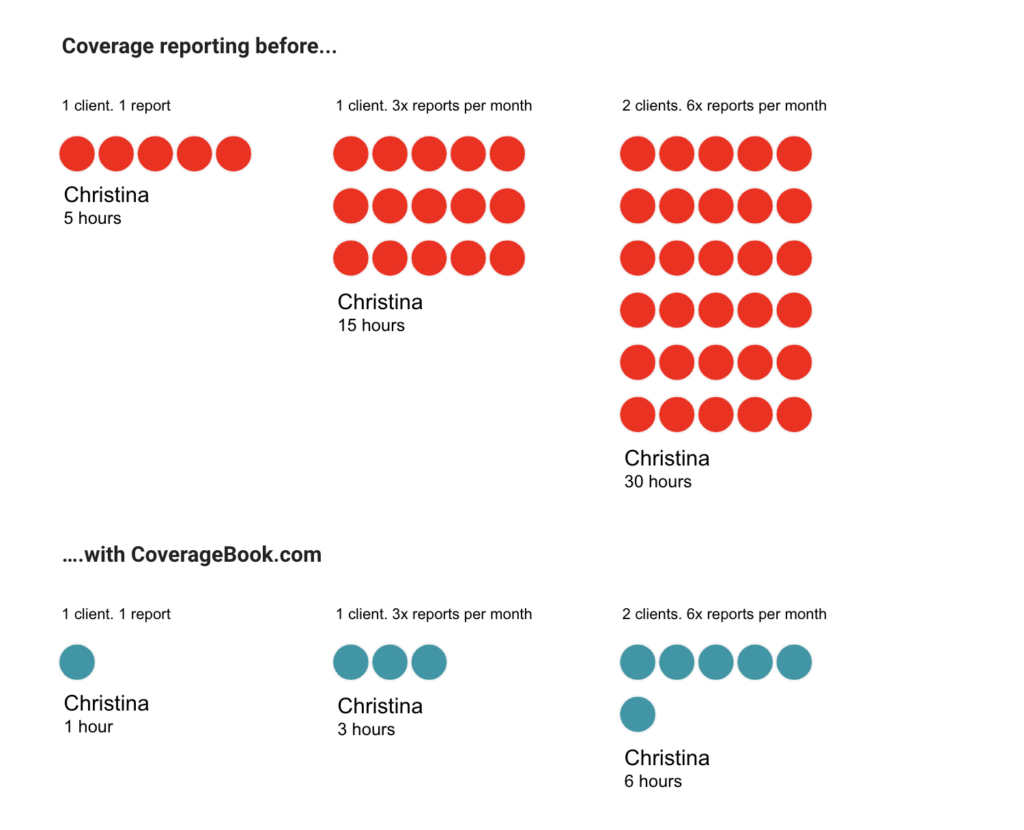 With large team plans starting at $229 a month, that's $1771 return on investment. Smaller teams can also benefit with plans starting at just $99 per month.
There are many factors out of our control in this current financial climate but the things we can control are; doing great work, carrying out that work in the most efficient way and proving the value of the work.
CoverageBook can't do the work but it will showcase your success and save hours of fee time which you can bank or use on important PR tasks that will help secure your future.
Try CoverageBook for free and see how much time you can save.
30 day free trial, no commitment, no credit card required.