Advertorials have always been a part of our communications plans and with the rise of bloggers and social influencers asking for payment for collaboration, new forms of advertorials are set to continue to be a part of our public relations plans.
As well as ensuring we abide by the rules of the ASA with paid promotion with influencers there are also guidelines set by Google to ensure that paid promotion is being run for the right reasons for users online such as raising awareness, rather than trying to cheat the system for higher search rankings.
Without being aware of Google's guidelines and setting up your advertorial correctly, you could be in danger of burying your entire client's content online and making it completely un-searchable.
Obviously, this could have a huge negative impact on your client's business including a decline in brand awareness, engagement and revenue.
The following tips will guide on what to request from your influencer or media house contact and introduce a handy tool from Moz to check content has been implemented correctly.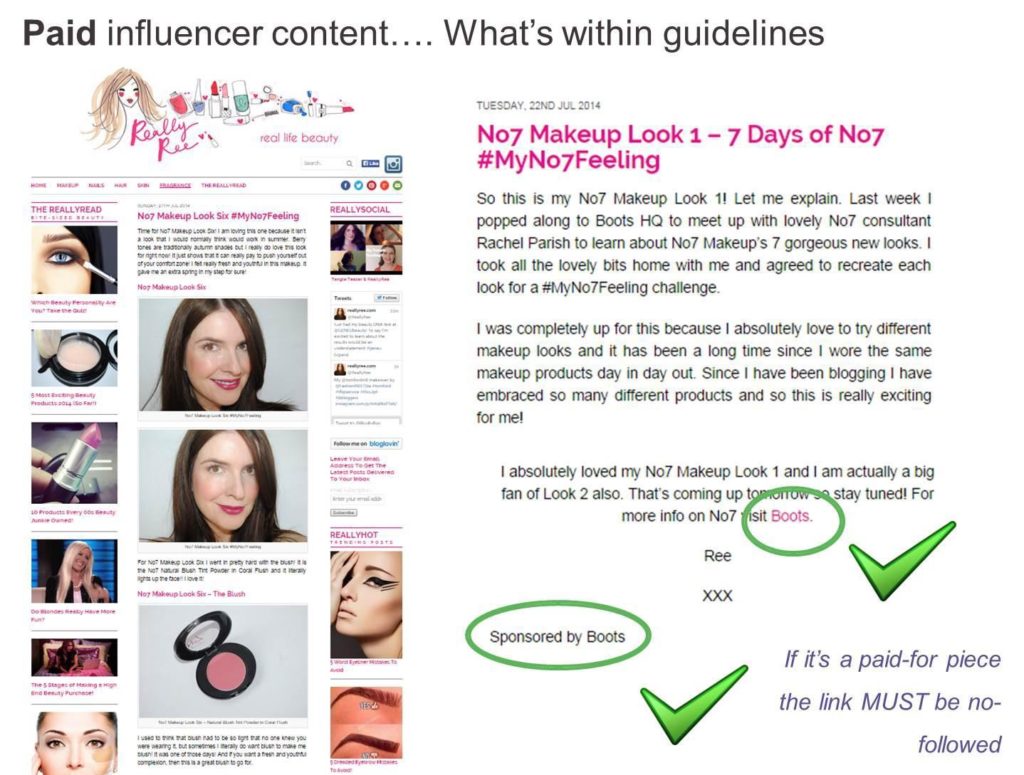 We know the above blog post from Really Ree is a paid promotion as she stated that it's a sponsored collaboration with Boots. This is required under ASA guidelines.
As the blogger was paid for the post she is also required by Google to not only state that its sponsored but also to add a code to the URL link to Boots to stop any search engine optimisation (SEO) value being passed on.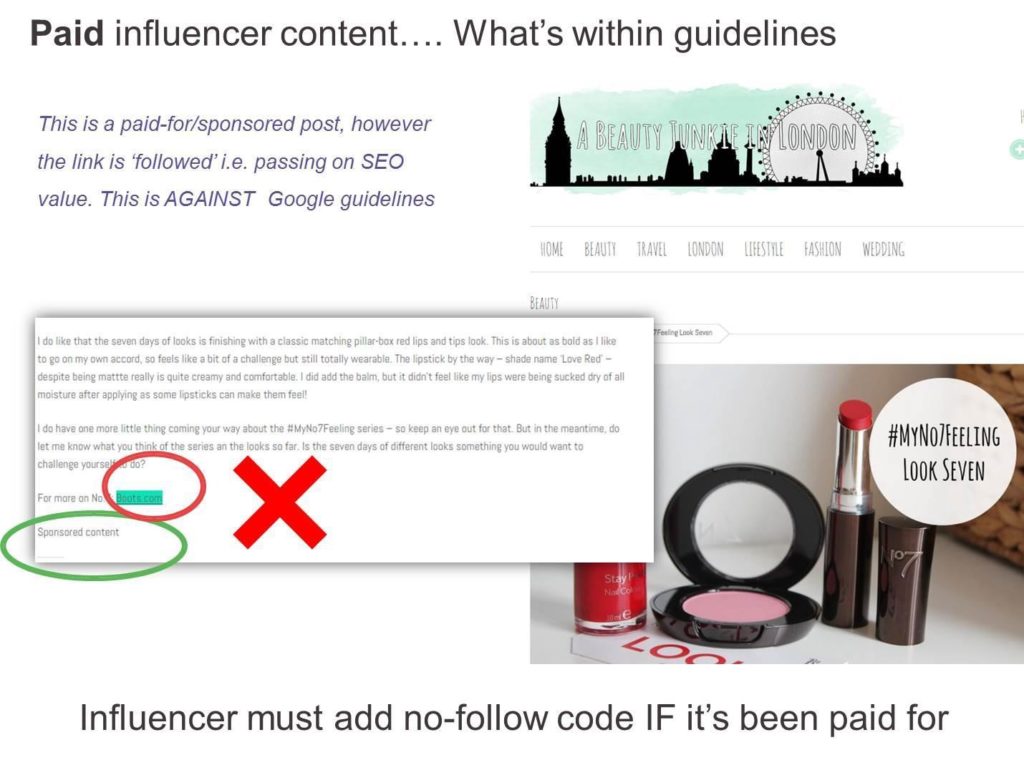 Google wants to ensure that only earned pieces of coverage help Search rankings and not paid content. They therefore require a no-follow code link on all paid pieces of content to highlight that the intension of the piece is solely for awareness and not SEO.
If Google can't see the no-follow code it will assume the paid piece is for Search marketing purposes and that it's been placed to cheat the search system. It's therefore essential that you work with your influencer or media house contact to ensure they add the 'no-follow' code.
Moz have developed a useful toolbar to highlight links on a page and indicate whether they pass on SEO value or not and it's free to download to Chrome and Firefox.
The toolbar also has other useful features including social shares of a webpage and the Search strength of a page but for this particular issue we need to click on the 'link highlighter'.
The highlighter tool provides options on what kind of links you want to spot on the web-page including:
'followed' — passing on SEO value and will help the website to rank higher on Google or,
'no-followed' — not passing on SEO value and will therefore not have an effect of search rankings
If your coverage is 100% earned, money didn't exchange hands and the link within your coverage is followed, you're helping your client achieve greater visibility in Search. Great news!
If your coverage is paid for, money did exchange hands and the link within your coverage is followed, then I suggest you call/email/send carrier pigeon to get the 'no-follow' code added to your link.
If you don't, you'll be going against Google guidelines and that's never a good idea for you and especially your client.