A great relationship is the key to a successful client/agency relationship so you really want to make a great first impression.
This can be a little daunting, so here's a quick guide to preparing for your first client meeting:
Make them succeed
If you can make your client look good in their role, you are onto a winner. Take time to learn about them and what their job role is like. What pressures are they under? Keep putting yourself in their shoes. What can you help with? What information do they want/need to hear? If you don't know already, ask them about their own targets and reporting so you can help feed directly into their needs.
Speak their language
It's so tempting to start shouting about your good results, how many pieces of coverage you've secured, how much the Telegraph journalist loved your event and will definitely write soon. They may be really interested in vanity measures and the names of publications that like their brand — if so make sure you know who has covered the brand and who is likely to. Some anecdotal quotes are great too.
But if they are being judged purely on sales then you need to switch your language and content accordingly. Use tools such answer the client to see how many people have clicked through for your coverage or ask them if they noticed sales peaks on days where your secured great pieces or had radio days.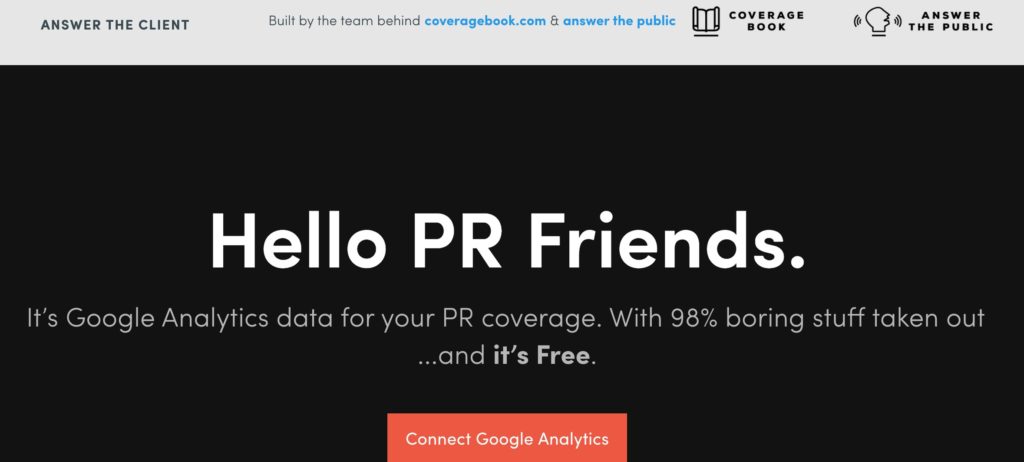 Know your slides
This is especially important if your slides have gone for a review and been changed. My first agency preferred one huge picture summarising the idea rather than cluttered slides. One meeting I was flummoxed when my slide with logos and ideas was replaced by Ray Mears' face and I stuttered over trying to remember the story angle we were pitching along with the example media.
Tip: If it is an important meeting, manually write yourself a script, read it once and throw it away. You'll sound stiff if you memorise it word for word but by writing it down just once, you'll have your head around how the slides fit together and it will highlight any parts you don't understand before you are mid sentence.
Prepare, prepare, prepare.
Most clients are lovely, they are humans after all but it's worth having a think about tricky questions that may arise in your first meeting and the best way to tackle them.
Here are some to get you started:
"What you are doing isn't working as sales are down"
Maybe all this coverage hasn't let to the sales they expected. In which case it doesn't matter if you had 3x the coverage — their bottom line hasn't changed
Are you looking month or month or year on year? Month on month doesn't account for seasonality which affects some brands more than others
Was there any difference in the rest of the marketing mix during this period — e.g ads may have been turned off
Before the meeting, see if you can get a view on market trends and activity — are your other clients also seeing a dip in sales? Has the public pulled back spending in this area across the board?
"Is this all the you achieved? I was expecting more!"
Are they likely to say the campaign has not met expectations? Is this a fair point? It is best to have a think about this beforehand so you are not caught off guard
Was there a target set at the beginning of the campaign? If there was and you smashed it, be careful as it still may not have met their expectations
If there was no target, before the meeting it would be worth thinking about what target would be fair for this campaign (try not to be led by your results at this point)
Acknowledge it and be honest. Especially if you are just as surprised as they are. Or if you think the results are brilliant, stand by your guns and explain why
If one metric is down, have you checked on other metrics? Have they been shared socially more than you would have expected, have you check to see if they are also passing on SEO benefit? You can find all this information quickly and easily through your CoverageBook account
Be proactive in next steps — can any of the PR material be recycled?
Explain how you will use the insight from this campaign to do the next one better. This nicely leads to to talking about the next campaign.
Enjoy yourself
When you arrive, make lots of small talk. It will help break down barriers and create a more relaxed meeting. On previous calls or emails they may have mentioned family or hobbies — ask about them, just as you would a journalist.
Energy is infectious so if you relax, so will they. And if you have read this guide you can fully relaxed in the knowledge you are nicely prepared.
Good luck.