CoverageBook 2?! But before we go there….

Let's rewind.

We launched CoverageBook way back in 2014. With an aim to help PR teams of all shapes and sizes showcase and measure their work. With minimal faff. I'd say that need is very much still there. And then some.
Thousands of people use it. Which still to this day I find completely bonkers. In a good way.

As a result we've had the privilege of 1000s of conversations with PR teams of all wonderful shapes and sizes. It's safe to say we've learnt quite a bit. And a lot has changed in the last 7 years right?!
David, our head of customer support shares a daily digest of all customer feedback. I call it the less than snappy…."David's Golden Daily Digest". I read every single one. It's a bittersweet daily read. Sometimes full of praise. But also a brutal tear-jerker. A reminder that we could do better. Much better.

So back in 2018 we started to wonder what better would look like. We do love a challenge.

For the curious but time-poor here is an exec customer research summary:

Team: "We average a 4.3 out of 5 customer satisfaction score"
Me: "So we've nailed it?!"

Team: "No! Far from it. Some people still think it's a bit….meh"
"It can't do x"
"Why doesn't it do that….."

"if only you did this….then it would be mind-blowing."
The list felt endless. (if you make software you'll know how this feels!).
No social metrics for social posts (hello? Instagram is a thing you know)
No easy way to segment coverage for presentation/analysis"
No way to present coverage + metrics in more concise formats"
Moving coverage around in big reports was a nightmare!"
And so on. And so on. You get the idea.
Gulp. The difficult 2nd Album was underway. The plan?
We'd maintain the current version. But start again from scratch in the background! The 4-year design and development process looked a little something like this. Some of the squiggles were great fun. Others….less so. But we found our way in the end.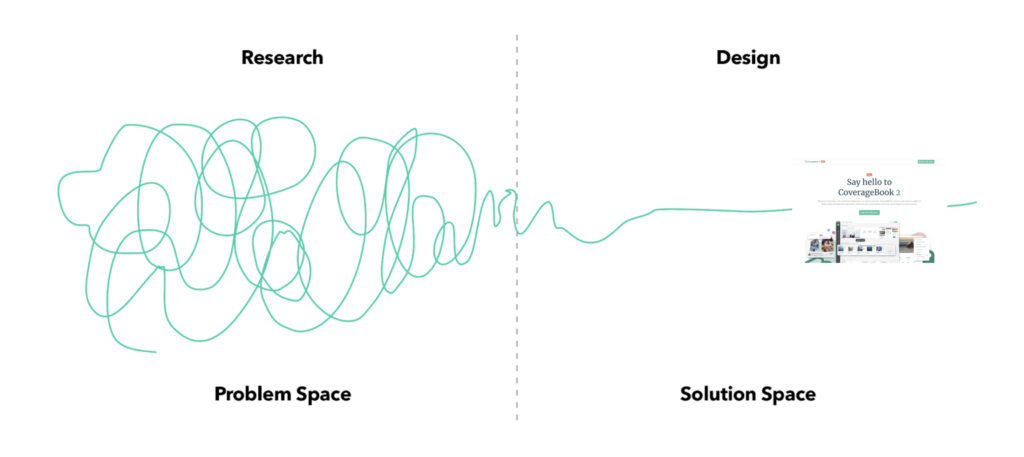 CoverageBook 2 needed to improve on what people liked about the current tool. And give us a platform to quickly release updates and innovative new features for years to come. The current codebase was creaking. Our CTO Andy said the word "refactoring" a lot. Sometimes it's just easier to start from scratch!

On your marks, get set… BAKE!

The key magic ingredients we wanted in our 2nd software cake…
Data scientists need not apply.
Not everybody wakes up dreaming of metrics and data. In fact, 99.9% of people don't. And rightly so. So we wanted to ensure we were providing next-generation, credible metrics for those with other things to do. But also the ability for those a little further on their measurement quest to segment, analyse and showcase their work. There is more to do here. But we're happy with the progress.
Reports in all shapes and sizes. Supporting the credibility & value of PR work.
The founder, CEO, marketing manager, sales team, account director, SEO etc etc. All need or want something a little different from their PR reports. And that includes how they arrive. So with 2 we're aiming to give a lot more flexibility in formats.
It has to be super easy to use. And easy to adopt.
1 was easy. But 2 had to be better. Getting more PR teams to adopt and shift behaviour to start measuring/analysing/evaluating is no small thing. So baffling people and putting them off is not on the menu! The words AI & multi-attribution were swiftly banned. We'll leave that waffle to others.

The vision was to make something accessible. Not scary and only usable by the salesperson selling it to you or the random geek in the building. I mean, we don't even have a sales team so it needs to do it's thing without the jargon and overpromises. We may not appear to be building the world's most sophisticated PR reporting tool. But that is through design.
Anybody should be able to showcase & tell the story of their PR work.
No Design or data visualization skills required on your part. We'll nudge you in the right direction. Because making data simple to understand is actually quite a complex process! We're on your side.
In fact, we have a prediction…..and it's a big fat confident one. Here goes…
It's time for PR practitioners to hold their heads up high. Your honesty in what you don't know about measurement is your strength. Communicating clearly and jargon-free is the future. Don't be jealous of those other teams puking out data that even they don't understand. It's a mask. And it's falling.
So here we go. CoverageBook 2 is here. It's day 1. And we're excited to keep the upgrades coming.
We've made hundreds of little (big) changes to make sure you don't need to spend any more time on our app than you need to. We'll be working on updates and improvements to the product for years to come. I know we've been quiet on this front for a little while now. But now you know why. Surprise!
If you're an existing customer. Then we've already been in touch to share this with you:
CoverageBook 1 vs CoverageBook 2
If you've tried the tool before and thought….. meh…if only it could do x. We'd love the opportunity to give you a second look (and us a 2nd chance). We don't take your time and attention lightly. If you sign up for a new trial now you'll be in the new version.

If you're looking at all this and thinking. I'm already using this stuff! Then lucky you. We snuck you into some early testing throughout July until now. You've never known some of the pains of using 1.

Now finally,

After 2 years Stella finally convinced me to be a guest on her PR Resolution podcast. We've spent 13 years working and talking together on all this SEO/PR/Software stuff. But with a mic sitting on the table it's somehow….well let's just say I prefer the written word!

She assures me it's a good listen. You be the judge.
Gary

P.s. I hope you'll enjoy the upgrade we've all worked so hard to bring to life. It's a bona fide pleasure to work alongside each of the team. Andy, Dan, David, Emma, Hannah, Laura, Mark, Stefan & Stella.
And they are just limbering up! Wait and see what they do next.

And not forgetting Jon & Alan who no longer work on the team. But were in the mix for many years on this thing. Thank you, guys.