Seeing an Insta-famous personality share your product with their 100,000 followers can be a huge rush. It's like seeing your name in flashing lights — but better, because those 100,000 people are going to go out and buy your product.
Well, maybe they will.
If you choose the right influencer and everything goes to plan.
But how do you know if everything has gone to plan?
Measure, measure, measure.
We recently spoke to specialist influencer marketing consultant Scott Guthrie about how much influence there is left on Instagram — you can listen here.
While we were there, he also gave us some great tips on how to measure your Instagram campaigns:
Finding the Right Influencer
First things first, you have to know who your audience is and where they hang out. You also need access to data to map your audience with the intended influencer's audience — are they the right age group, the right gender, living in the right location?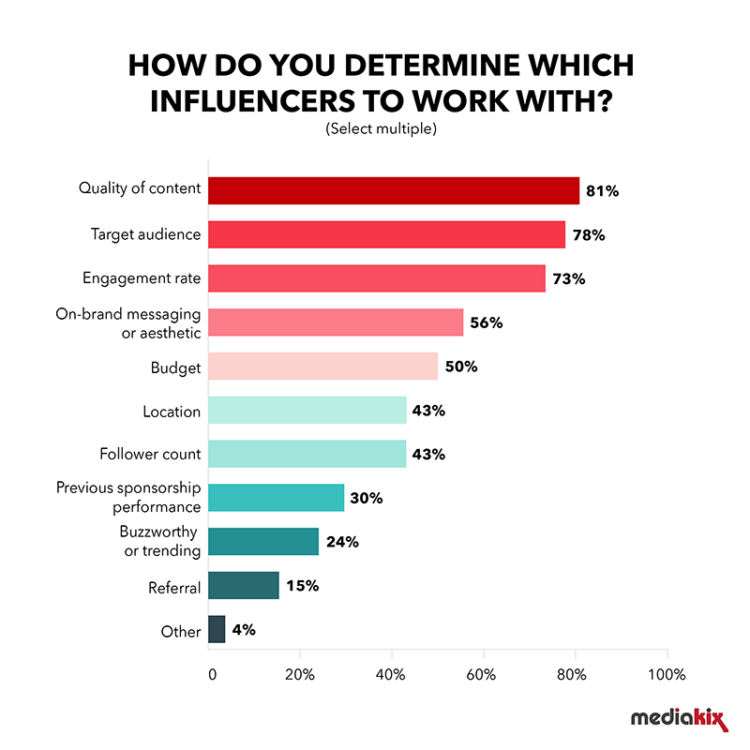 "It's not just about whether their face fits, it's about looking at and analysing their follower data," says Scott.
He recommends following influencers you've got your eye on to get to know them, their style, and their voice (lest you end up repeating the experience Listerine had last year).
Then you can measure the engagement rates — both on organic and on brand collaborations. A lot of influencers will see higher engagement rates on organic content than on sponsored posts, which can be for any number of reasons. "Maybe, for example, the influencer simply doesn't put as much effort in with brand work," he explained.
Tools to Help You Find the Right Instagram Influencer
Obviously it can take a ton of time to trawl through every relevant influencer's feed to tally up the number of likes and comments they get on each post.
Luckily, Scott recommends some tools to check out which specifically record and track the follower counts and engagement rates of influencers.
Firstly, there are marketplaces like Buzzoole, Tribe, indaHash, and Takumi, that have a roster of influencer marketers on their books. If you provide them with a creative brief, they can find an appropriate influencer that is a good fit.
This takes the hassle out of pre-vetting influencers as it has already been done for you.
Alternatively, there are tools like Q-83, Hype Auditor and Social Blade that are able to give you a high-level breakdown of an influencer's demographics as well as the fluctuations in their follower count and engagement rates.
Keep an Eye Out for Influencer Fraud
There's a boogeyman in the Instagram influencer world that has reared its head in the past year or so, and that's influencer fraud. This term is used when an influencer actively buys engagement or followers to boost their popularity (although Scott highlights that "being popular isn't always the same as being influential").
Tools like Social Blade and Hype Auditor show you if there has been a sudden uptick in engagement or followers, which can indicate fake followers and bought engagement. Q-83 goes further, as it enables the influencer to annotate any spike and provide context for that surge.
According to Scott, influencer fraud actually has some benefits for the industry: "a few years ago, we lionised reach over all other metrics, so people went out and bought followers. Then we decided it wasn't only about reach, it was about engagement too, so they bought or colluded with engagement."
He adds that each time fraud comes to light in one way or another, we push through it and towards more authentic forms of measurement and more impactful metrics.
What Metrics Should You Measure?
This fully depends on what your objectives are.
"It depends on where you're trying to move the needle and what part of the customer journey you're trying to activate", Scott puts.
For example, you might be trying to get your brand in front of a new audience, so you might work with an influencer who already has trust and authority with that audience. In this case, you'd be looking for high reach and engagement levels.
On the other hand, if you want people to go to a landing page to get more information, you might measure Story views and Swipe Ups.
Think about the desired end result and the metrics you need to measure will follow.
Do you want to sell more products? Access new audiences? Create a more positive brand sentiment?
Once you know this, you can track your results in the most relevant way, whether that's through the number of Story saves, how many DMs are received, or the number of high-quality comments.
What Happens When Instagram Hides "Likes"?
You've probably heard that Instagram is experimenting with hiding likes. The creator can still see the number of likes that are generated, but their followers and brands cannot.
Scott believes Instagram is doing this for two reasons:
To push more people to use creator account profiles rather than normal profiles
To push users towards buying branded content advertising in order to get their posts boosted up through the ranks
He predicts that, by the end of the year, organic reach will be throttled and Instagram might look more like a pay to play landscape.
We asked Scott, what does this mean for the PR world?
Instagram hiding likes could have a few potential outcomes:
It will instantly kill a post's social proof. Remove that, and the number of likes influencers get will start to plummet
It will force creators to try a lot harder to stop thumbs from scrolling past and encourage them to create more engaging content
It will encourage more meaningful engagement beyond the use of basic emoticons and the blase "cool pic" comments
It will create a two-way conversation between brands and their followers
It will eventually reduce influencer fraud because vanity metrics won't matter as much
It might limit the number of posts that get deleted after a few hours because they don't rack up enough likes
It might push us another step towards having to pay for visibility
For many brands, Instagram influencer marketing is a great way to get in front of new audiences and to give an already-trusted voice to your products.
The key is choosing the right influencer (while sidestepping any frauds) and, more importantly, tracking the right metrics so you know whether the collaboration is a huge success or a big old failure.
If you want to hear more from Scott — you can listen to our podcast with him where we discuss how much influence there is on Instagram here.